The HyMeX science questions





HyMeX Science is organized along five major research topics, each addressed in a dedicated Working Group (WG):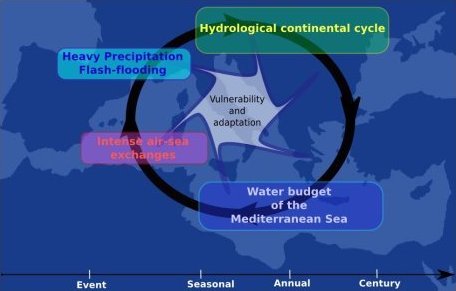 The five scientific topics of HyMeX



The topics "Water budget of the Mediterranean Sea" and "Hydrological continental cycle" aim at better understanding and simulating the long-term water cycle over the Mediterranean basin through budget and trend analyses. The general underlying question for both topics pertain to the variability of the water cycle components in the context of global climate change and how it will impact water resources.

The topics "Heavy rainfalls, flash-floods and floods" and "Intense sea-atmosphere interactions" aim at improving the knowledge and predictability of intense events. The process studies carried out within these topics will aim to identify the components as well as their interactions needed to produce extreme events. To which extent such extreme events contribute to the global trend and how they will evolve with global climate change will also be addressed.

The topic "Societal and economic impacts" will address vulnerability questions and adaptation strategies in societies facing high-impact weather events through the monitoring of relevant factors. How to reduce the impacts of extreme events and climate change is the key issue in this topic.



HyMeX – Hydrological cycle in the Mediterranean Experiment 2010-2020